Painting Prices in Scottsburg, Indiana
Are you wondering how much painting services in Scottsburg, Indiana cost? Pricing varies, of course, but if you're looking for a solid painting contractor in Scottsburg at a price that is fair, you've just found them! At O'Rourke's Painting & Protective Coatings, we like to assess the scope of the job at hand before quoting a price. We believe every painting job is unique, just as every surface is unique. Whether you want a price to paint the exterior of your Scottsburg home or just touch up the trim and front door, we'll assess the work requested and readily give you our best price.
We treat every painting or staining job as if our reputation depends on it (because we know that it does). The pride we take in our work shows in everything we do, but giving all our customers value for money is very important as well. While you might be able to find a cheaper painting contractor in Scottsburg, pricing generally reflects skill level and quality. We know you won't find a higher quality Scottsburg painter with the great pricing O'Rourke's Painting & Protective Coatings can deliver!
---
Call for a Free Quote
---
Our Scottsburg Painting Pricing Process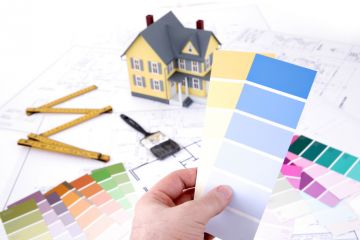 Rather than giving our customers a list of set prices, we follow a consistent and fair pricing process. After an initial phone discussion, we'll schedule a convenient time to visit you in person, whether at your home, office or wherever the work will take place. We'll listen carefully to your painting requirements. We'll take time to consider both your space, the materials needed and any other factors that may impact pricing the job.
Once you're happy that we have considered all aspects, we'll then calculate the cost to paint your Scottsburg home or office building. We'll provide you with a free written estimate as soon as we have it, although we don't like to rush such an important task.
The quote you receive will be based on a range of factors, including the required timescale, the nature of the work and the caliber materials you are looking for. For example, if you wish to change the color of your home's exterior, in Scottsburg the cost will be a bit higher than if you wish to stay close to the current color. Wherever possible, we will work within the confines of your budget, but we'll always be honest and upfront with prices.
We will guarantee this: O'Rourke's Painting & Protective Coatings always strives to complete work on time and within the established budget. Once we've given you a written estimate, you can take it to the bank!
The Best Painting Value in Scottsburg
Our experienced Scottsburg painting contractors are not only highly skilled and conscientious, but they provide painting services in Scottsburg at a great value. Over the years, we've successfully completed just about every imaginable type of painting project. There is no painting job we can't take on successfully.
While we don't claim to be the cheapest painting service in Scottsburg, we honestly believe we're the best. Call (812) 227-5525 and you will be in touch with a team that values attention to detail and building trust. We never cut corners to save time or money. Our reputation (and your home) is simply too important to us.
If you are looking for a Scottsburg painter for a cost-effective and high-quality job, call (812) 227-5525 for the best painting value in the area.
---
Call for FREE Painting Prices Quote
---
WHAT CUSTOMERS ARE SAYING:
5★★★★★ - "FANTASTIC job! Our home has never looked better, will definitely recommend to all family and friends. William did an awesome job and was very friendly as well."

michelle in Scottsburg, IN

2018-04-09

5★★★★★ - "We highly recommend Bill. He cleaned and repainted our siding and resealed our deck. The deck is 16 years old and looks new again. Bill is professional and pays close attention to details. Everything is perfect!"

Mary Jo G., Deck Staining in Clarksville, IN

2022-06-09

5★★★★★ - "20 year old deck looks great after the thorough cleaning and application of stain.Highly recommend O'Rourkes.
Spring 2022 in Clifton neighborhood."

Pat S. in Louisville, KY

2022-05-31

5★★★★★ - "Mr. O'Rourke and the team performed flawlessly on painting my old metal barn. They came, washed, and prepped the building for paint and kept me informed as to when they would be there. Excellent experience. Thanks"

Charles

2021-07-01

5★★★★★ - "O'Rourke's did an amazing job on our backyard remodel! We originally thought we would only be able to get our deck painted, but found out that they were also able to add a roof to our deck, add gates to our decks, and move our fence. Their work far exceeded our expectations and it only took them three days to complete all of that work! Our children have been able to play outside every day since the remodel, rain or shine. I also really appreciated the open communication of what to expect and when we could expect them to be working each day. I haven't had that sort of experience with other companies that have done work for us and it was really wonderful to have that. I can't say enough good things about O'Rourke's and would recommend them to anyone!"

M Jones

2021-06-01

5★★★★★ - "Superb quality and prompt service. Highly recommend. House looks new."

J, House Painting in Clarksville, IN

2021-03-02

5★★★★★ - "Bill and his crew did a great job cleaning and staining my deck. It looks fantastic. I'll be using them again."

Sheppard in St Matthews, KY

2020-06-15

5★★★★★ - "Had our deck cleaned and stained and they did a great job. It is a large deck on a drop off lot and it looks awesome. I would highly recommend Bill and I will definitely use them again. Very good to work with. Glad I chose them."

Anonymous in Greenville, IN

2020-06-05

5★★★★★ - "Top quality work and good people. Very happy with the way my vinyl siding looks and way cheaper than new!"

Anonymous

2019-06-24

5★★★★★ - "Great job and company. Vinyl siding looks new again. Thanks!"

John in Shepherdsville, KY

2019-06-24

5★★★★★ - "William O'Rourke is a man of his word, great value and done on time. Had a 76' by 30' barn roof with two coats done the same day. Call him and get a written quote, saved $ over a new roof."

William Bizer in Charlestown, IN

2019-04-08

5★★★★★ - "We are very pleased with our decision to go with Bill O'Rourke to stain our large deck and front porch. After consulting with Bill on the best approach given the condition of our deck, we were provided an upfront estimate for the proposed work at a very reasonable price. Bill was very professional in the timing and performance of the job and checked with us to be certain we were satisfied with the final product. We will definitely be recommending O'Rourke to any friends and family looking for staining/paintwork!"

Bo B., Deck Staining in Clarksville, IN

2018-12-20

5★★★★★ - "I've used a lot of home contractors over the years and I would rate O'Rourke as one of the best I've ever used. Simple to deal with, works hard and does a great job. I'm looking for more projects around the house that I can call William to come in and do."

Rick in Louisville, KY

2018-09-19

5★★★★★ - "Got to our job quickly and completed the job in half a day. The service was professional and the cost reasonable."

Anonymous

2018-07-24

5★★★★★ - "O'Rourke's Painting power washed and stained my back deck as well as cleaned the vinyl siding and trim on my house. He did an absolutely fantastic job, and he wanted to make sure I was satisfied with his work. Would definitely recommend to anyone."

Richard H in Jeffersonville, IN

5★★★★★ - "2 weeks ago O'Rourke's, Bill, and Bill came to wash our very large, 2 story house. They went over and beyond. Even pressure washed porch to prepare for new staining. Patched siding where I put holes from throwing rocks with mower. House looked new again. Also had them paint roof on older building. They surprised us with painting ends to match other barn.. I highly recommend this company. Thank you fellows for a great job!"

Anonymous in Oriole, IN

5 ★★★★★ - "We hired Bill to paint our deck and a bathroom. Bill was very professional and friendly and even gave us some advice on our deck which made it turn out great. He always kept us updated on the progress of the job and was never pushy or impatient with us. I couldn't be happier with the outcome."

Sarah Stoffregen in Memphis, IN

5 ★★★★★ - "O'Rourke Painting surpassed our home painting and repair needs! They took such great care while working on our home with high quality professionalism and affordable cost. I completely trust O'Rourke Painting and have already recommended Bill to two other friends looking for updates to their home."

Jami GH in Clarksville, IN

★★★★★ - "Painted our house, stained our deck did a fantastic job done such a great job recommend bill and his team to our friends and they also was impressed with their professional workmanship we will be getting him again in the future"

Anonymous in Clarksville, IN

★★★★★ - "Did a wonderful job on our home and outbuildings. Very professional and all around nice people. Wouldn't hesitate to use them again!"

Anonymous in Floyds Knobs, IN
---
Call for FREE Painting Prices Quote
---